Bhutan
Find out a few interesting facts about Bhutan and enjoy our collection of flag printables and worksheets.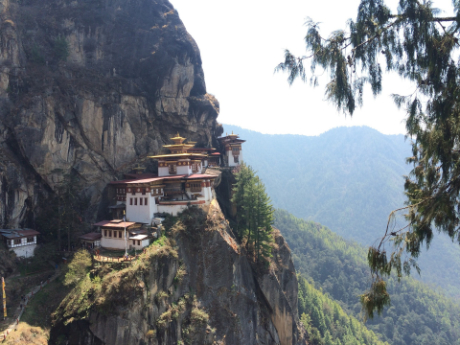 Tigers Nest Monastery, Bhutan
A Little Geography
Bhutan is a land-locked country located to the east of the Himalayas.
Bhutan is bordered by the Tibet Autonomous Region of China in the north, the Sikkim state of India and the Chumbi Valley of Tibet in the west, the Arunachal Pradesh state of India in the east, and the states of Assam and West Bengal in the south.
The country has one of the most intact ecosystems in the world with more than 165 species of mammals.
Much of the land in the Himalayan region of Bhutan is under constant snow.
A Little History
Little is known of the early history of Bhutan, but archaeological finds suggest the mountain valleys have been inhabited for several thousand years.
The Indian Guru Padmasambhava arrived in Bhutan in the 8th century, bringing Buddhism and establishing a number of temples and monasteries.
The Drukpa Kagyupa school of Buddhism was formed in the 12th century.
In 1616, Ngawana Namgyal took leadership becoming a ruler called the shabdrung.
In 1885, the ruler Ugyen Wangchuck made closer ties with the British in India.
Bhutan is one of only a few countries which have been independent throughout their history.
And Some Interesting Facts
Bhutan was mostly disconnected from the outside world until the 1960s, with tourists and media from other countries not allowed to visit. TVs only arrived in the 1990s.
Plastic bags have been banned in the country since 1999, well before other countries started to consider a ban.
There are no traffic lights in Bhutan! Fortunately, there aren't too many cars either!
Bhutan is the only country in the world that is Carbon-negative, in other words it produces less Carbon Dioxide than it absorbs.
---
About the Bhutan Flag
The Bhutan flag features the Thunder Dragon, the country's emblem. Yellow represents the authority of the king, white stands for purity and loyalty, and orange represents the Drukpa monasteries. The Bhutan flag was officially adopted in 1965.
---
Our Bhutan Resources
Explore Activity Village