British Virgin Islands
Learn a little about the British Virgin Islands, a British Overseas Territory, and enjoy our collection of printable flags and flag colouring page below...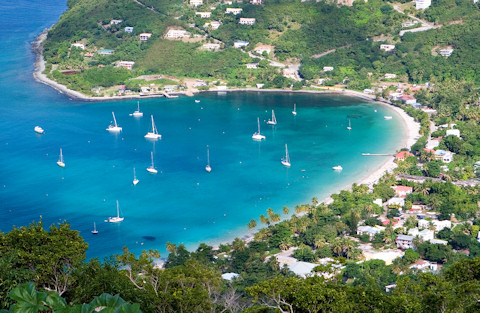 Bay on Tortola, British Virgin Islands
A little geography:
Technically called just the Virgin Islands, they are often called the British Virgin Islands to distinguish them from their neighbours, "Virgin Islands of the United States".
There are four main islands and some 50 smaller islands. In total 15 are inhabited, but with very small populations.
The capital is Road Town, on the biggest island of Tortola. The islands is only 12 miles long and 3 miles wide, and has a population of about 23,000. In total the population of the British Virgin Islands is only about 28,000.
A little history:
The British Virgin Islands may have been inhabited as far back as 1500 BC. In about 100 BC they were settled by the South American Arawak people, who inhabited the islands until the 15th Century when they were thrown out by the aggressive Carib people.
The islands were named by Christopher Columbus on his second voyage in 1493. He called them "Saint Ursula and her 11,000 Virgins", which was soon shortened to simply "the Virgins".
The Spanish claimed the islands in the 16th Century but didn't settle. Pirates did! The Spanish, English, French, Dutch and Danish all tried to take control of the islands. The English captured Tortola in 1672.
Sugar cane was introduced as a crop, and slaves were brought in from Africa to grow it until the abolition of slavery in the middle of the nineteenth century.
Some interesting facts:
Today the British Virgin Islands thrive on tourism (many cruise ships visit the island) and providing offshore financial services.
The local music is called fungi, played by fungi bands or "scratch bands" with a variety of instruments. Fungi is also a local cornmeal dish!
Sailing is the local "sport".
Anegada island is the second largest and the most northern of the British Virgin Islands. As it is only 28 feet above sea level at its highest point, its nickname is "the drowned land".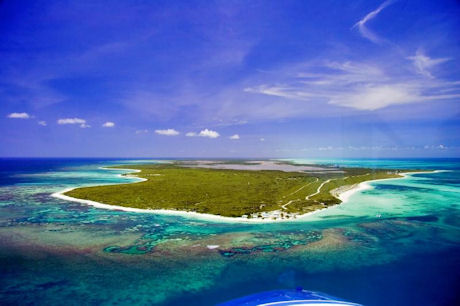 Anegada Island, British Virgin Islands
Print out the flag of the British Virgin Islands in four different sizes, or have a go at our...
Explore Activity Village