Here is a quick and easy craft idea which can turn a photo into a special gift! We've made one for Father's Day, but the kids can personalize these for all sorts of occasions and recipients.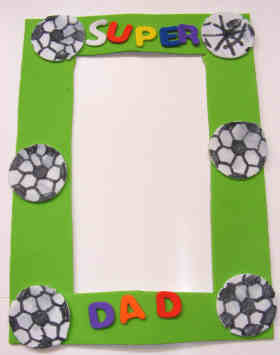 You will need:
Sheet of craft foam Foam stickers Photo (or drawing) Sheet of card Ribbon to hang PVA (white) glue
Instructions:
Cut out a rectangle of craft foam a bit bigger than your picture. Fold the foam in half and cut out a rectangle in the middle, leaving you with a frame about 3cm wide.
Decorate the frame with foam stickers. Try and make the frame match the picture. We decorated white circles to look like soccer balls, but you could do baseball, basketball or rugby, or, if Dad's a motoring enthusiast, cars or wheels.
Glue the picture to the back of the frame. Glue a loop of ribbon to the top. Cut the card to the size of your frame and glue it to the back.
Why not use your frame to hang one of our Dad's dream pictures?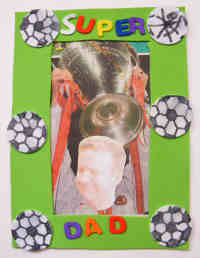 Explore Activity Village