Kids can sew this cute felt kiwi out of simple sewing basket supplies. It's a fun craft idea for studies of New Zealand or perhaps for Waitangi Day.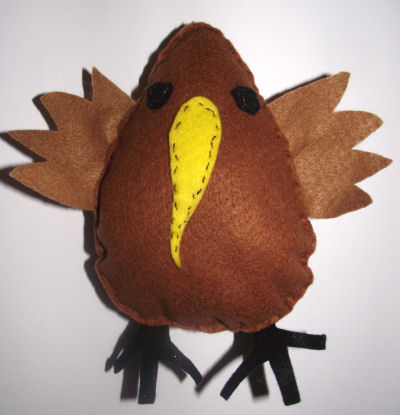 You will need:
Brown felt
Yellow felt
Black felt
2 black buttons (optional)
Toy stuffing
Thread and needle
Pins
Jack sewed this cute felt kiwi!


Felt kiwi softie template
Instructions:
Using our pattern, cut out 2 bodies and 2 wings from brown felt, 2 feet from black felt and a beak from yellow felt. If you do not want to use buttons you can use small circle of black felt as eyes.
Using running stitch, sew the beak to the front of one of the body pieces. Sew on the buttons or black felt circles as eyes.
Lay your body pieces one on top of the other. Slip the top of the feet in between the two layers and pin into place. Slip in the wings too and again pin.
Starting just above one wing, with running stitch close to the edge sew the two body pieces together. When you get to the wings and feet sew through all three layers.
When you have reached the top of the second wing, stuff the kiwi through the gap in the head and the sew the gap closed.