Whip up this cute kiwi finger puppet with your kids for a New Zealand theme or perhaps for Waitangi Day - its quick and easy, especially using our template. No sewing required!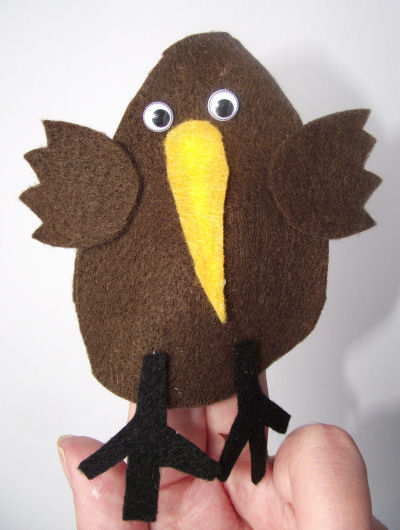 You will need:
Brown felt
Black felt
Orange felt
Wiggle eyes
Fabric glue (you can sew if you wish)

Small kiwi template
Instructions:
Print our small kiwi template and use it to cut out two bodies and two wings from brown felt.
Glue around the edge of one of the bodies leaving a gap and the bottom so you can put in your fingers. Stick the second body on top.
Glue the two wings to the front of the body.
Cut out two legs from black felt and glue these to the front of the body.
Cut out an orange beak and stick this to the front of your kiwi. Stick on two wiggle eyes and your kiwi is ready for play!