The needle case in the photo has been created for Valentine's Day, but you could obviously adapt this craft for other times of the year.
You will need:
Scraps of felt
Scraps of wool (yarn) or embroidery thread and appropriate needle
PVA (white) glue
Embellishments as required
This simple needle case was made in less than 30 minutes by an 8-year-old with almost no adult help. The craft can be adapted by colour, decorations and the amount of help given to suit all ages of children.
Instructions:
Measure, mark and cut a rectangular piece of felt for the cover of the needle case. Our rectangle measures 10cm x 20cm. Older children may like to try rounding the corners.
Measure, mark and cut a second, smaller rectangle of felt (perhaps in a contrasting colour). Ours measures 6cm x 14cm.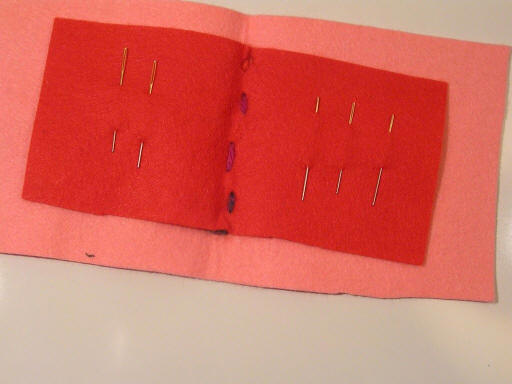 Put the two rectangles together and pin in the centre where the row of stitching will be. You can draw a light pencil line or use a disappearing marking pen to mark the stitching line if you like, but don't be too worried about accuracy - you can always trim the needle case later and the more work the children do on their own, the more thrilled with the finished product they will be!
Thread your needle with wool or embroidery thread and put a knot in the end. Take the knot in between the two rectangles so that it doesn't show, and then, using a running stitch, join the two rectangles together. Finish off by going over the same stitch 2 or 3 times.
Explore Activity Village