Children will enjoy creating this handprint Stegosaurus - a fun way to get messy and learn about dinosaurs at the same time!

Our handprint stegosaurus!
You will need:
Paper
Green, red and black paint
Instructions:
Keeping your fingers together, print a green handprint sideways in the centre of your paper. This is your body.
Print a green thumbprint at the finger end of your handprint as the head.
Add four fingerprints underneath as legs.
Use the side of your hand to print a tail.
Paint red fingerprints along the back and tail as the spikes.
Finish off with a black eye printed with your little finger!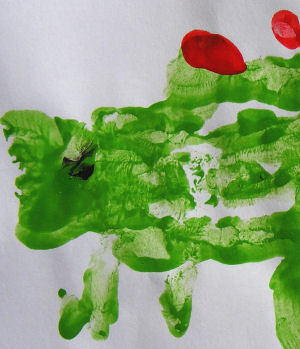 Handprint stegosaurus - detail
Explore Activity Village