This fun Mardi Gras crown is great for kids of all ages - just decorate according to age and ability. The kids will be proud to wear them in their Mardi Gras parade!
You will need:
Gold card (about 3 inches / 5 cm wide and long enough to go around your head)
Feathers
Sparkly bits (sequins, glitter etc)
Glue
Sticky tape
Stapler (optional)
Instructions:
Lay your card in front of you, face down. Arrange your feathers so they stick over the top of the card. Tape into place along the back of the card.
Turn your crown over and decorate with sequins, glitter, sparkly paper or any other other bits you have in your craft cupboard.
Bend your crown around so it fits your head and staple or tape to secure.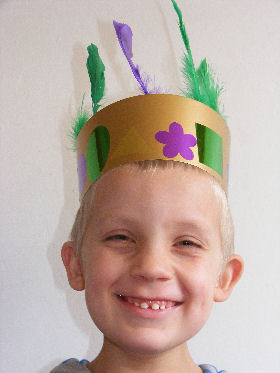 Jack wearing his Mardi Gras crown!
Explore Activity Village