Northern Ireland
Northern Ireland is the smallest of the four parts of the United Kingdom, making up some 3% of its total population, and is well known for its impressive Victorian architecture and spectacular scenery. Learn a little more about Northern Ireland and explore our worksheets and flag printables below.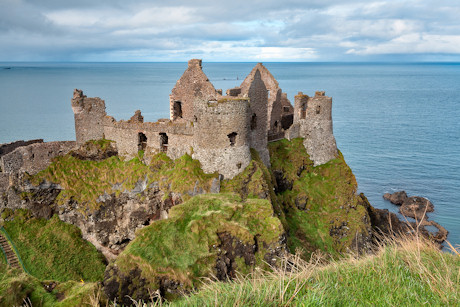 Dunluce Castle, County Antrim, Northern Ireland
Learn about Northern Ireland
The Giant's Causeway is a world famous area of 40,000 hexagonal columns found on the North East coast, formed during volcanic activity - although according to legend, it was built by an Irish giant, Finn MacCool, as a crossing to confront his Scottish enemy.
Belfast is the largest city and also the capital, with a population of 333,871 in 2015.
The ill-fated Titanic was built and launched from Belfast Harbour.
Northern Ireland is the birthplace of CS Lewis and inspiration for the author's fictional land of Narnia.
Two large shipbuilding gantry cranes dominate the skyline of Belfast and are named after the biblical figures Samson and Goliath.
At official events, as part of the United Kingdom, Northern Ireland flies the Union Flag. At...
Use our map and fact-finding worksheets to accompany your exploration of Northern Ireland with the...
Explore Activity Village