Please somebody make me one of these! What better way for the children to practise their stitching than on one of these adorable owl phone case holders, made with felt, buttons and a little love. Perfect as a gift for mother or granny or a favourite auntie, perhaps?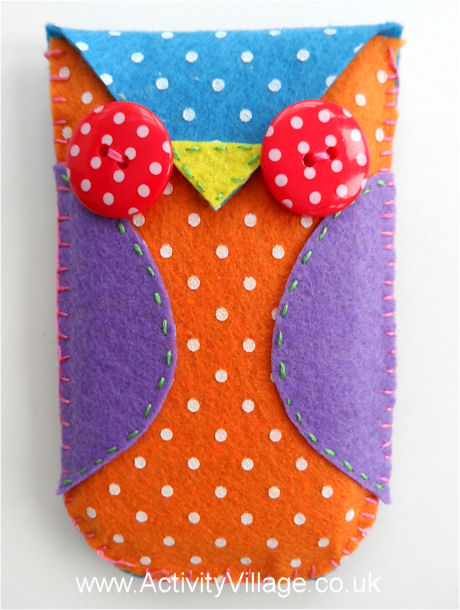 You will need:
Felt
Buttons
Needle and thread
Instructions:
Place the phone on the felt you want to use for the front of the owl. Cut a rectangle of the felt 1cm larger than the phone on all four sides. Cut the bottom corners into curves.
Place the front piece you have just cut out onto the felt you will be using for the back and draw around it. Add 1/2cm to the top edge, and then draw a triangle about 4cm tall on top of that (to form the flap). Cut out.
Cut two wing shapes, using our photo for guidance, and sew them to the front piece of felt.
Sew on the buttons. They need to be close enough together so that they will hold the point of the back in place (see photo).
Cut a beak from a scrap of felt to fit on the point of the back piece and sew in place.
Lay the front and back pieces together and blanket stitch around the edge.
Explore Activity Village