Pigs
As everyone knows, pigs eat anything! That means they are omnivores. But they are also clean animals and social, highly intelligent. The pigs ancestor is the wild boar, which can still be found in many parts of the world.
Fun fact: There are many different species of pig, including the bearded pig, the warty pig and the pot-bellied pig!
We've got lots of fun pig activities to enjoy with the children at Activity Village, including a range of printables and colouring pages. We'll be adding a collection of pig crafts too, soon!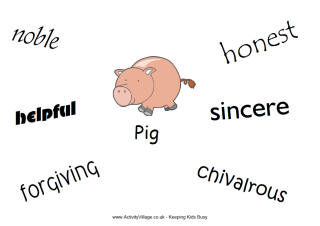 The pig is one of the twelve animals of the Chinese Zodiac. If someone in your household or the kids in your class were born in the Year of the Pig, you might like to check out our Chinese zodiac themed activities:
Year of the Pig
Explore Activity Village