Here's a fun way for little children to get involved with decorating the house or classroom for Eid! Potato printing is always fun but messy, so be sure to put paper to protect your surfaces. Once you have cut your potato prints, why not make our potato print Eid card too...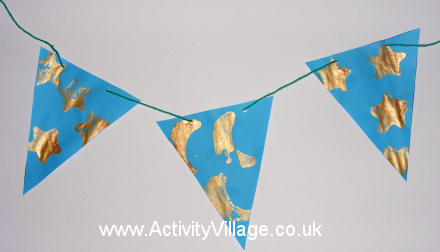 Here's our finished Eid bunting. We chose a lovely bright blue for the paper which sets of the gold paint beautifully!
You will need:
Coloured paper or card
Potato
A sharp knife (pr star and circle biscuit cutters)
Gold paint
Ribbon or thread
Bunting template
Instructions:
Print our bunting template on to paper.
Cut the potato in half. If you have the biscuit cutters use them to make the shape of a star in one side of the potato and a crescent in the other. Using the knife carefully remove the surrounding potato. If you don't have cutters simply cut the shapes using the knife.
Put some gold paint into a saucer.
Stamp stars on half the bunting and crescents on the other half.
Leave to dry.
Cut out the bunting and punch holes at the top.
Thread on to string or ribbon to hang, alternating stars and moons. Secure the bunting in place on the string with sticky tape if needed.
Explore Activity Village