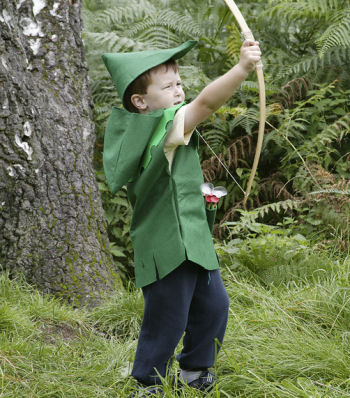 When I was a child, my brothers and I loved the Robin Hood story and often dressed up as Robin Hood, Maid Marion and the merry men! We have two versions of Robin Hood costume for you - one ultra quick and easy, one a little more permanent.
Quick Robin Hood Costume:
First, Robin Hood needs a green or brown long-sleeved T-shirt and leggings or trousers (pants).
To make his jerkin, measure from the top of the head to thighs and cut a long rectangle of fabric (brown or green) twice this length and the width of your child's shoulder span, plus about 4 inches. Use pinking shears so that you don't have to neaten the edges. Fold in half and cut a small semi-circle and slit for your child's head to fit through, using the illustration below as inspiration. Be careful not to cut it too big - it's better to start smaller and cut out more if you need to! Now cut a length of fabric to use as a tie, and sash the jerkin loosely around their waist.
Add a quiver (cover a snack can with brown paper and attach a long loop of fabric or ribbon to the top edge with which to hang it) and, if your child is old enough to be responsible with them, some home-made "arrows" - cut craft foam arrow heads and attach to chopsticks.

Robin Hood Costume Template

Origami newspaper hat
You can make Robin Hood an appropriate hat using a large sheet of green paper and our origami hat instructions. Trim with a red feather if you like!
Sewn Robin Hood Costume:
The jerkin in the photo above is made from essentially the same pattern as our quick jerkin, but the sides are stitched (leaving room for armholes at the top under the fold) and the edges are finished off with small hems. Add a scalloped collar of felt at the top if you wish.