Year of the Ox
What do you know about the Chinese Year of the Ox? What characteristics might you expect of an ox child or adult? Find out here - and enjoy our fun printables, too!
Year of the Ox Dates
11th February 1937 – 30th January 1938
29th January 1949 – 16th February 1950
15th February 1961 – 4rd February 1962
3rd February 1973 – 22th January 1974
20th February 1985 – 8th February 1986
7th February 1997 – 27th January 1998
26th January 2009 – 13th February 2010
12th February 2021 - 31st January 2022
31st January 1933 - 18th February 2034
Next Year of the Ox
We won't be celebrating the Year of the Ox again until 31st January 1933!
Ox Characteristics
As you might expect, the ox is dependable, very hard-working and strong. They are also very good leaders, who aren't swayed by the fads and fashions they see around them. They are honest, easy to get along with, loving and patient - an excellent companion or family member to have around.
Our Year of the Ox Resources
More Ox Fun for Kids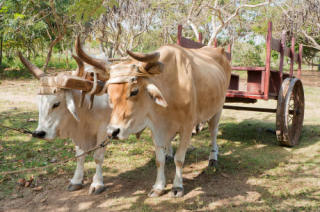 Find out some more about oxen and enjoy our original crafts (lots!), printables and colouring pages...
Oxen