Year of the Tiger
Lots NEW! If you have a tiger in the family, you probably know about it! We've got lots of fun activities for kids to enjoy here, including easy kids tiger crafts and all sorts of printable activities like colouring pages, puzzles and fun learning sheets!
Year of the Tiger Dates
31st January 1938 – 18th February 1939
17th February 1950 – 5th February 1951
5th February 1962 – 24th January 1963
23th January 1974 – 10th February 1975
9th February 1986 – 28th January 1987
28th January 1998 – 15th February 1999
14th February 2010 – 2nd February 2011
1st February 2022 - 21st January 2023
19th February 2034 - 7th February 2035
Next Year of the Tiger
It's here! 1st February 2022 - 21st January 2023
Tiger Characteristics
Tigers are daring and brave, and will fight any battle that they believe in, leading others along with them with their powerful personalities and forceful sense of purpose. Despite that, they can be sensitive and emotional and are easily hurt, especially if they feel that their friends or family have let them down. The tiger likes a challenge, and also likes to attack something new every so often - in fact they can be a little flighty at times! Tigers have a very strong sense of injustice and will speak out if they think something is unfair.
Our Year of the Tiger Activities for Kids!
More Year of the Tiger Ideas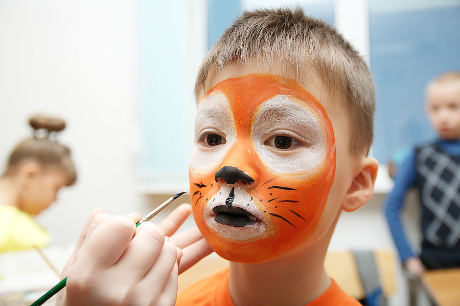 A professional can make painting a tiger face look very difficult and detailed, but it needn't be tricky. This little boy looks just like a tiger and only 3 fact paints have been used: white around the eyes and mouth, orange to emphasise the fact, and black for the details. Fun!

Why not have a go at a Year of the Tiger paper cut? We used orange paper for the paper cut and then placed it against black card to show off the details. We have a template for this tiger paper cut craft here.
---
More Chinese Zodiac Fun!

We've got a great collection of rabbit crafts, colouring pages and all sorts of printables for the kids to enjoy here:
Year of the Rabbit