Botswana
Discover a little about Botswana with our fun facts for kids, and enjoy our collection of flag and activity printables - useful for classroom and home.

Botswana elephants, mother and baby
A Little Geography
Botswana is a land-locked country situated in southern Africa, bordering Zimbabwe, South Africa, Namibia and Zambia.
Botswana is similar in size to France but with a much smaller population. In fact it is one of the most sparsely populated countries in the world. Over 10% of the 2,100,000 population live in the capital city of Gaborone, made famous in the novel "The First Ladies Detective Agency".
Botswana is a wealthy country by African standards. It contains extensive mineral resources such as the Jwaneng Diamond Mine, the richest in the world, which was found when termites pushed specks of diamond to the surface.
Nearly 40% of the land is national parks and wildlife reserve, providing large areas for animals to roam. Much of the country is flat and 70% of the land is the Kalahari Desert.

This map shows the position of Botswana within Africa. You can print it here.
A Little History
Archaeologists have found stone tools in Botswana proving that the country was inhabited at least 400,000 years ago, and cave paintings date back about 73,000 years. Many different peoples - hunters and gatherers, then traders and cattle raisers - are thought to have inhabited Botswana.
By the middle of the 19th century, what we now know as Botswana, governed by Tswana chiefs, began to trade with the British through Cape Colony. Christian missionaries established themselves widely.
By the end of the 19th century, Britain decided to consolidate its trade and position in Africa by taking control and ruling over the Tswana chiefs. They named the area the Bechuanaland Protectorate.
Botswana became independent in 1966 and is the oldest democratic state in Africa.
First President Sir Seretse Khama is credited with increasing prosperity and is known as the George Washington of Africa with his efforts to bring racial harmony.
Some Interesting Facts
Botswana is a haven for endangered species of mammal and bird such as cheetah, brown hyena, Kori bustard, and Pel's fishing owl.
The Okavango Delta - a semi-arid sandy expanse which covers 85% of the country - is known as the jewel in the Kalahari. Fed by annual floodwater from Okavango river, the vast delta supports a wide array of African wildlife from hippos to elephants.Huge herds of zebra and wildebeest make an annual migration to find food and water.
The national dish is Seswaa, a stew of boiled meat, maize meal and greens.

The beautiful Okavango Delta
---
The Botswana Flag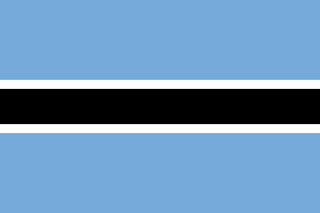 The National flag of Botswana replaced the Union Jack in 1966 when the country gained independence. It is a light blue colour with a central horizontal black stripe, framed with two white stripes. The light blue colour represents rain and the white and black stripes show both between races and the colours of Botswana's national animal: the zebra.
---
Our Botswana Resources
Explore Activity Village