These little angels are adorable! Print out our template page (below) and then use it to cut the shapes out, decorate and assemble.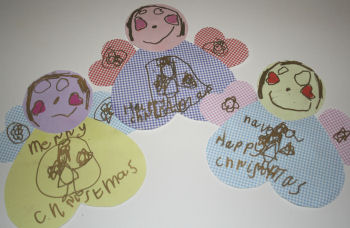 You can of course embellish the plain shapes in lots of different ways: perhaps with gold stars, felt tip pens, sequins etc. Write you own special message on the angel, and then use as is or stick to the front of a plain, folded card.
Draw on your own faces and add "hair" if you wish.
You could also make two angels back to back, and stick them together with a loop of cord between them to hang your angels up!
For some really special angels, why not cut the bodies and wings from some of our scrapbook paper designs?