This glitter glue wreath makes a quick and easy decoration for the Christmas tree which kids can make themselves in all sorts of designs. It catches the light and sparkles very prettily - the photos don't do it justice!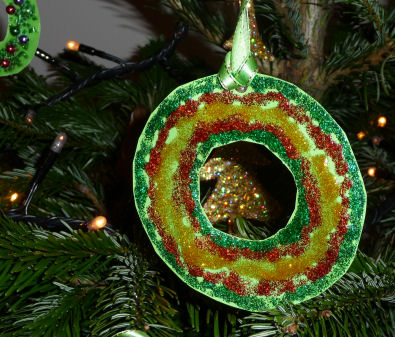 Our glitter glue wreath hanging on the tree
You will need:
Our template (below). We used the medium wreath shape
Printer card (or print the template onto paper and use as a guide to cut out of card)
Glitter glue in assorted colours
Hole punch
Ribbon to hang

Christmas wreath template
Instructions:
Print our template directly onto card and cut out, removing the centre carefully. Alternatively, print onto paper and use as a template to cut out some heavier card as a base.
Punch a hole in the template where marked. Put your wreath on a safe surface - perhaps some newspaper or a plastic sheet.

Glitter glue wreath in progress
Now use your glitter glue to cover as much of the wreath as you can. Try a simple design like ours, or get really elaborate!
Leave to dry for at least 24 hours. Thread some ribbon through the hole, and hang.
Explore Activity Village