These candle jars are simple and great fun to make, and a very effective Halloween decoration. But an adult will need to supervise everything to do with the candle - including, of course, lighting it!
You will need:
Jars of all shapes and sizes and appropriate candles to fit them
Tissue paper - orange, white, purple or black
Black construction paper
Glue
Scissors
Black felt tip marker
Instructions:
You can get very creative making your Halloween candle jars, and we are sure you will come up with many different ideas. Basically you wrap the jar in a piece of tissue paper, insert the candle and light it! You create the effect you want either by cutting out pieces of the tissue paper, or by sticking extra pieces of paper on, or just by drawing your design with black felt tip marker.
Choose a design:
Our Halloween templates may be useful to help you cut out your shapes.
Pumpkin face - use orange tissue paper and cut out a lantern face before wrapping around the jar. Our Halloween templates include a lantern face which you can use for inspiration.
Spider web - use white tissue paper, having first drawn a spider web onto it with black felt tip pen. You could attach a small plastic spider into the middle of the web for a 3D effect, or cut a spider out of black paper like we have done.
Bats - again use white tissue paper. Cut a number of small bat shapes out of black construction paper and glue them to the tissue paper randomly.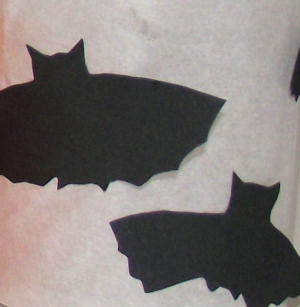 Witch - use purple or green tissue paper. Stick on a selection of silver stars and add, towards the bottom of the jar, a black cat cut out of black construction paper.
We are sure you can think of more ideas!
Explore Activity Village