Holding Your Own Olympic Games
One way to get kids interested in the Olympic Games is to host your own Olympic Games event. We have made it easy for you by providing everything from Olympic Games event printables, to suggested games, printable medals, and even suggestions for the food to provide...
Olympic Games Event Printables
Choose from two designs of Olympic Games printables and print out everything you will need your event, from the invitations through to the score sheets!
Divide Your Children Into Teams
Depending on the age of the children involved, you may let them choose their own teams and team names. For younger children it might, however, be preferable to allocate teams and names in advance and announce them on arrival, or perhaps when sending out invitations. Specifying a colour for each team works well and you could always ask the children to turn up wearing a T-shirt or sash in their team's colour to help with identification.
For older children, you could assign a country to each team - perhaps by letting them pick a card (or a flag) out of a hat. Or print and make a flag badge for each child and let them each pick one out of a hat - this way you allocate teams completely randomly, which can be the fairest way and prevent too much anxiety.
Olympic Mascots
Every Olympic Games has its mascots, and every team has their mascots too. You can have fun dressing up your teddies and other toys to support your team! Perhaps you could start your own event with some cutting and sticking - ask kids to bring along a teddy and you provide the printables, ribbons and so on.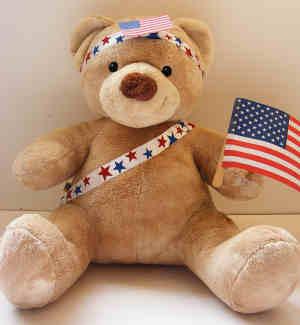 Kids can have great fun dressing up their teddies and other toys as mascots - either for a real...
Suggested Activities
As all Olympics start with an opening ceremony, we've included one too. With older and more boisterous children, however, I expect they might prefer to jump straight into the games themselves.
Opening Ceremony:
Have your own opening ceremony. Get the kids busy making flags, hats and mascots, then parade around to display their creations. Play some good marching music.
Indoor Games:
Paper plane folding and throwing
Hoopla
Basket ball
Obstacle course
Discus (using paper plates)
Simple gymnastics displays
We have printable Winter Olympics Games here
Many more game ideas
Outdoor Games:
Throw the bean bag or sock (push a tennis ball into the toe of a sock and tie the other end). have competitions to see who can throw it the furthest. Of course you could throw practically anything - including wellies if it is a wet sort of day!
Basket ball
Running races or all sorts, including distance races, three legged races, egg and spoon races, sack races and relay races
Obstacle course
Discus using frisbees
High jump and/or long jump
Swimming races, if you are lucky enough to have access to a swimming pool
You could also hold table tennis, badminton and tennis tournaments if you have the equipment
Simple gymnastics displays
Many more game ideas
Medals and Closing Ceremony:
Of course no Olympic Games can be complete without awarding medals and a closing ceremony. If possible, find some boxes so that medal winners can stand high to get their applause! Older kids will accept that there are winners (and losers) in every event, but for younger children you should plan to give every child a medal for something.
We have many ideas for making medals using card, foam, felt... and if you don't have time to make your own we have some medals available to print.
When medals have been handed out, give the kids a chance to march around again, this time displaying medals proudly.If the children's parents have not been present, it is a nice touch to invite them at a specific time to see the Medals and Closing Ceremony.
Olympic Games Food
Standard party fair will go down well at your event - sausages or hot dogs, sandwiches, pizza slices and so on. Keep it simple as you will have enough to do supervising the Games and won't want to spend too much time fiddling with the food. Remember if you are having an outdoor summer event that you will to provide plenty of drinks, which should be available at all times, not just when the kids sit down to eat.
If you have chosen your teams in advance, you could theme the party table - perhaps with the appropriate colours of paper plates and cups, streamers and so on.
If your Olympic Games are a collaborative effort, it is a good idea to ask each mother to bring a specific items of food. Otherwise you can end up with all sandwiches or all chocolate cake! If you have the ability to put up a list somewhere, you could post some suggestions and ask people to sign up for what they want to bring on the day.
And why not encourage kids to get involved with the Olympic Games by serving up an Olympic treat or two...
Sample Time-Table
Allow about 2 hours for your event.
Arrival - Allocate into teams and organise crafts while all children arrive. Provide a drink and snack if appropriate. (15 minutes)
Opening Ceremony (5 minutes)
The Games Begin - Have a long list of events ready so that you know what is coming next! Always have more events than you need as they usually take less time than you expect. (50 minutes)
Meal - Sit the children down, either at low tables or on the floor, for a meal and drink. (15 minutes)
More Games - Older children may be ready for some more games; it might be an idea to keep these games a little quieter as the children have just eaten. (20 minutes)
Medals and Closing Ceremony (15 minutes)
Departure