Kids love a good scary story. Set the scene by lowering the lights and perhaps lighting a few candles (always supervise children around candles). You can also play some low spooky music in the background...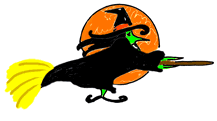 Take turns telling scary stories appropriate to the age group of children. For younger children you can read a suitable scary story and not make the scene too intense for them.
Make this time special by serving a Halloween punch or "witches' milk" (warm milk sprinkled with a little chocolate and cinnamon).
Explore Activity Village