Shamrocks
You'll find all sorts of shamrock activities here at Activity Village - colouring pages, printables and crafts. We hope you enjoy them!
The shamrock is a three-leaved clover, and is a symbol of Ireland - one you will see a lot on St Patrick's Day!
A four-leaved clover is unusual - about one in every 10,000 clovers has four leaves - and it has regarded as lucky if you come across one by accident! The "lucky clover" is not particularly associated with St Patrick's Day.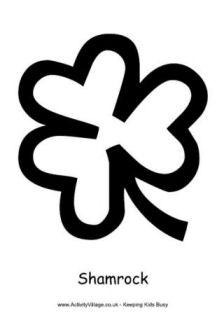 Enjoy our collection of shamrock colouring pages, and have a Happy St Patrick's Day!
Fun shamrock printables for children - for St Patrick's Day or an Irish theme, perhaps.
We've come up with a collection of shamrock crafts for kids to enjoy for St Patrick's Day...
Explore Activity Village