Singapore
Join us for a quick tour of Singapore: learn some interesting facts and print out the flag in all sorts of shapes and sizes - including bookmarks, jigsaw and colouring page!

The urban landscape of Singapore - Singapore skyline
A Little Geography...
The Republic of Singapore is a sovereign city-state in Southeast Asia, lying at the tip of the Malay Peninsula. There is the main island (Singapore Island) and 60 much smaller islets.
Singapore is very urban, with very little of its original green landscape - although efforts are being made to "green" the city with new parks such as the Garden by the Bay built recently on reclaimed land. The island has been expanded considerably by reclamation.
The island is one of the world's largest financial centres and also has one of the top five busiest ports.
Singapore has a population of just over 5m, 75% are Chinese with significant minorities of Malays, Indians and Eurasians.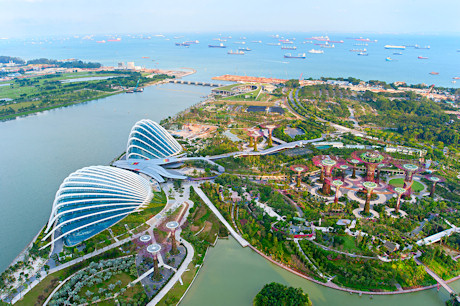 Gardens by the Bay, Singapore - 101 hectares of reclaimed land
A Little History...
Modern Singapore was founded in 1819 as an outpost of the East India Company by Sir Stamford Raffles. The island was claimed for Britain in 1824.
During the Second World War, the island fell quickly to Japanese troops and was occupied for the duration of the war.
Singapore became independent in 1963.
And Some Interesting Facts...
Singapore has no less than four official languages: English, Malay, Chinese and Tamil.
Singapore is the second most densely populated country in the world, after Monaco.
The country has low tax rates and has therefore become an increasingly popular tax haven for the very wealthy - including Facebook's co-founder Eduardo Saverin. Singapore has the world's highest percentage of millionaires!
Private car ownership is restricted and very expensive! Only 1 in 10 Singaporeans owns a car.
The world famous Raffles Hotel opened in 1887 and is still a popular tourist destination. The popular cocktail, the Singapore Sling, was first served in its bar in 1915!
Print out the Singapore flag, use our notebooking pages, colour in our flag colouring page and...
Explore Activity Village