Kids can whip up this cute little Union Jack bag for patriotic occasions such as the Queen's Platinum Jubilee! It would be a good party craft which you could then fill up with some mementoes and treats, too. Of course older children could practice their sewing skills rather than using glue, as we have done.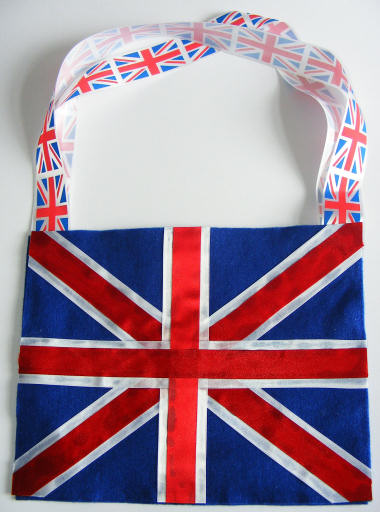 Our Union Jack bag - ready for some mementoes of the day!
You will need:
2 pieces of blue felt
White ribbon (2 inch wide)
Red ribbon (1 inch wide)
Union Jack ribbon (optional)
Fabric glue.
Instructions:
Cut two lengths of white ribbon that run diagonally corner to corner on one of your pieces of felt. Glue them in place. Do not worry about any over hanging bits.
Repeat with the red ribbon so you have a diagonal cross.
Cut a length of white ribbon to run vertically and one to run horizontally, and glue these on to make a cross. Then repeat with the red.
Leave to dry. Trim off any overhanging ribbon so you are left with a neat rectangle.
Cut two lengths of ribbon to be the handles.
Sandwich the ends of the ribbon handles in between the two pieces of felt and secure in place with glue. Glue the pieces of felt together around sides and bottom. Be careful not to leave any gaps or you will have holes in your bag. Leave to dry.