Uruguay
Find out some interesting facts about Uruguay with the kids, and then print and enjoy our useful flag printables.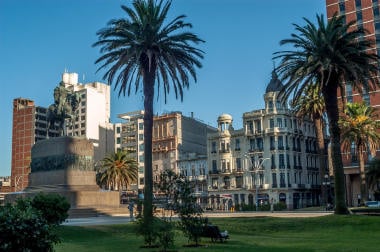 Independence Square in Montevideo, Uruguay's capital city
Learn About Uruguay
Uruguay's Geography
Uruguay, in the southern tip of South America, borders Brazil to the north and Argentina across the Rio Plate.
Like Argentina, much of Uruguay is made up of flat pampas grassland, home to mainly smaller mammals such as three toed anteaters and armadillos.
It the second smallest South American nation in size with a small population of 3,500,000, half of whom live around the capital Montevideo.

Uruguay on map of South America. We have a printable version of this map here.
History of Uruguay:
The country won independence from Brazil in 1825.
The population is predominately derived from European immigrants who displaced the original native Charruas.
Sport!
In a country where outdoor pursuits are popular, football is the national sport.
Proud Uruguayans point to the two World Cups won by the national team and well known international players such as Diego Forlan.
---
The Uruguay Flag
The Uraguay flag features blue and white stripes representing the nine departments within the country, and the Sun of May (Sol de Mayo), the national symbol of Uraguay. The current flag of Uruguay was officially adopted on July 11, 1830.
---
Our Uruguay Resources
Explore Activity Village