Here's a quick frog mask craft for little kids, perfect for a group or parties because you can get the masks ready in advance and let the kids decorate them!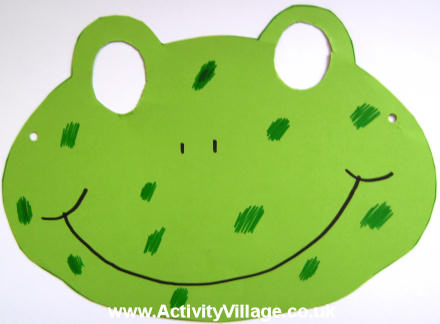 You will need:
Green card
Scissors
Elastic
Black pen
Frog mask template
Print the template straight onto green card, and cut out.
Carefully cut out holes for the eyes, using our photo below as a guide.
Decorate your mask however you like. Frogs are often splotchy, so you could use sponge dabs of paint, finger prints, or round stickers. Draw on a big smiley mouth and some nostrils.
Punch a hole in either side of your mask and thread through some elastic for tying the mask onto your child's head.
Explore Activity Village