Here is a quick idea for a St Patrick's Day craft which is bound to be a hit with the kids - and it provides a nice keepsake for the grown-ups, too!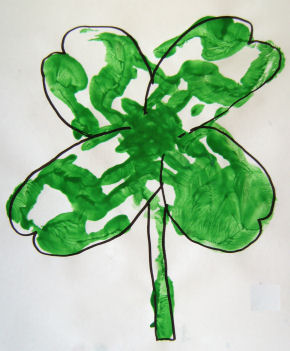 You will need:
Green paint
Paper
Black pen
Instructions:
Print four green handprints in a circle, palms outwards and fingers together. (For a traditional shamrock rather than a four leaf clover, you can of course do just three handprints). These are your leaves.
Add a line with the side of your hand for the stalk.
When the paint is dry, outline with black pen.
Explore Activity Village