This rocking rabbit craft for kids is so quick and easy to do, and really lovely to display! Make for Easter or perhaps for Chinese New Year of the Rabbit.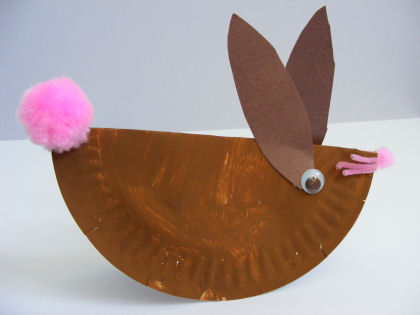 You will need:
Brown paint
Paper plate
2 pink pompoms (1 very small)
Brown card
Pink pipe cleaner
Wiggle eyes
Sticky tape
Glue
Instructions:
Paint the back of the paper plates brown and leave to dry.
Fold the plate in half.
Cut the pipe cleaner into 3 pieces. Fold these in half and tape the centre inside the fold in the plate. Bend the ends of the pipe cleaner around the plate so they form whiskers.
Glue on a small pompom as a nose.
From brown card cut two long ears. Glue one on to either side of the plate so the stick above the fold.
Glue an eye to each side of the plate.
Finish by gluing on a pompom tail. Your rabbit is ready to rock!