Wales
Take a trip to Wales with us and learn a little about the country, have a go at some fun Welsh-themed crafts, enjoy our colouring pages, dabble in our daffodil and castle topics, explore our St David's Day section, and introduce the kids to some well-known Welsh landmarks! You can even have some fun with our Welsh language printables.

Harlech Castle, Wales
Learn about Wales
Wales, known to Welsh speakers as Cymru, is part of the United Kingdom.
An ancient and proud nation whose settlement dates to the Neanderthals, Wales emerged as a distinct group of Kingdoms following Anglo Saxon invasions in the Dark Ages.
To counter English advances, Offa, King of Mercia, ordered a massive ditch, known as Offa's Dyke, to be built.
King Edward 1st conquered the nation following the death of the Welsh leader in 1282, which eventually led to a legal union with England in 1536.
A feature of the warring factions of the Middle Ages is the large number of defensive castles built by nobles, which provide tourists with an insight into the torrid history of the region.
Self rule, in the form of a new devolved National Assembly, was won after the referendum in 1997.
Wales has lovely sandy beaches on the Gower Peninsula as well as beautiful National Parks, for example mountainous Snowdonia, which are justly popular with hikers.
Rugby is the National Sport, with the national team, drawn from a mere 3 million population, often excelling against the much larger nations of England and France.
Whilst famed for its countryside, the majority of people live in modern thriving cities such as Cardiff.
Welsh Activities for Kids
More for Wales

Saint David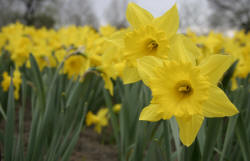 Daffodils

St David's Flag Printables

A boy and girl dressed in traditional Welsh costume!

More from our Around the World Topic...

Scotland
Explore Activity Village