Knotting is a traditional Chinese craft. Knots are functional (used to fasten clothes, etc) but they are decorative too. Elaborate designs are often used as decorations at Chinese New Year. Real Chinese knots can be quite complicated but our Chinese Knots Collage is ideal for younger children.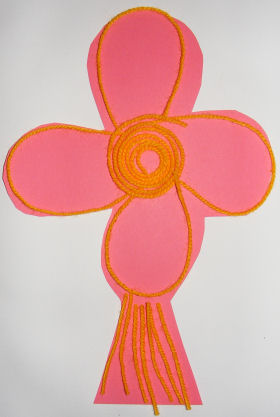 Chinese knots collage
You will need:
Wool or cord (pink, red or orange)
Card (pink, red or orange)
Glue
Instructions:
Look at some pictures of Chinese knots (try a Google image search). Arrange your wool in a similar design. Ours was inspired by the flower knot, with a tassel at the bottom.
When you are happy with your design, glue the wool down. Trim around the edge of your design.