Dr Seuss
"Children want the same things we want. To laugh, to be challenged, to be entertained and delighted."
Theodore Geisel
Perhaps one of the best-known and best-loved children's authors of all time, Dr Seuss (Theodore Seuss Geisel) is most famous for his delightful stories of The Cat in the Hat and How the Grinch Stole Christmas, now successful movies - but there are so many more to enjoy! Make your reading of Dr Seuss even more memorable by trying some of these Dr Seuss activities or party ideas below.
Dr Seuss's Birthday
Also known as Dr Seuss Day, this is celebrated on 2nd March each year. It's a great time to get out all your favourite Dr Seuss stories and read them out loud! Then print out some of the activities below or try our craft ideas!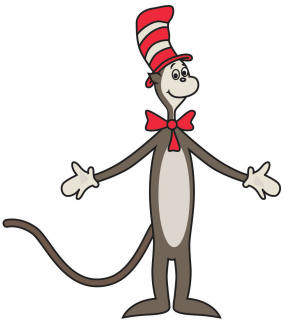 Give a Dr Seuss Themed Party

Anything red and white striped is instantly evocative of Dr Seuss, especially if you through in a little bright blue! How about filling up some party paper cups with popcorn? If you can't find stripes, you could always add your own with a red marker, and write on each child's name - that way they could double up place settings!
More Dr Seuss Ideas
A few quick and simple craft ideas based on some of your Dr Seuss favourites...
Dr Seuss Crafts
Ideas for combining Dr Seuss's wonderful stories with some learning activities.
Dr Seuss Teaching Ideas


There's a goldfish and goldfish bowl in The Cat in the Hat - and we've got one here too!
Goldfish
Visit Seussville (Leaving Activity Village)
The official Dr Seuss site, there is much to do and enjoy here.
Dr Seuss Books
Dr Seuss wrote and illustrated 44 children's books, many of which remain firm favourites around the world today. How many have you read?
The 500 Hats of Bartholomew Cubbins
A Hatful of Seuss
And To Think That I Saw It On Mulberry Street
Bartholomew and the Oobleck
The Butter Battle Book
The Cat In The Hat
The Cat In The Hat Comes Back
Daisy-Head Mayzie
Did I Ever Tell You How Lucky You Are?
Dr. Seuss' ABC Book
Dr. Seuss' Sleep Book
The Foot Book
Fox in Socks
Gerald McBoing Boing
Green Eggs and Ham
Happy Birthday To You
Hooray For Diffendoofer Day!
Hop On Pop
Horton Hatches The Egg
Horton Hears a Who!
How The Grinch Stole Christmas!
Hunches in Bunches
I Am Not Going To Get Up Today
I Can Lick 30 Tigers Today! And Other Stories
I Can Read With My Eyes Shut
I Had Trouble Getting to Solla Sollew
If I Ran The Circus
If I Ran The Zoo
The King's Stilts
The Lorax
McElligot's Pool
Mr. Brown Can Moo! Can You?
My Book About Me
My Many Coloured Days
Oh, The Places You'll Go!
Oh, The Things You Can Think
Oh, Say Can You Say
On Beyond Zebra
One Fish Two Fish Red Fish Blue Fish
Scrambled Eggs Super
The Sneetches And Other Stories
Ten Apples Up On Top
There's A Wocket In My Pocket
Thidwick The Big-Hearted Moose
Yertle the Turtle
"The more that you read
The more things you will know.
The more that you learn
The more places you'll go!"
Dr Seuss
You might also enjoy:


Roald Dahl
Explore Activity Village