While adults are drinking their mulled wine and hot toddies, kids can enjoy this delicious, hot fruity Christmas punch! The smell of the fruits and spices and the lovely red colour all invoke Christmas, and it takes wonderful...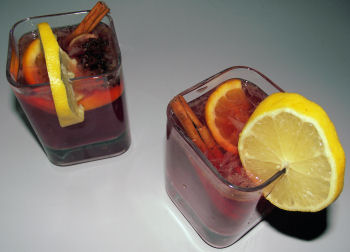 Fruity Christmas punch - delicious!
Ingredients:
Makes 4 glasses
Cranberry juice (we used a very seasonal cranberry and pomegranate juice, but plain cranberry or other variations are fine)
4 cinnamon sticks
8 star anise
Lemon
Orange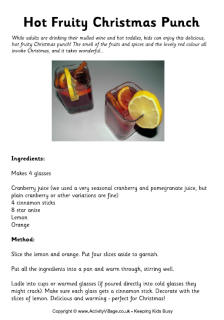 Hot fruity Christmas punch recipe printable
Method:
Slice the lemon and orange. Put four slices aside to garnish.
Put all the ingredients into a pan and warm through, stirring well.
Ladle into cups or warmed glasses (if poured directly into cold glasses they might crack). Make sure each glass gets a cinnamon stick. Decorate with the slices of lemon. Delicious and warming - perfect for Christmas!
Explore Activity Village