It is definitely a labour of love to make a gingerbread house, but it can become a family Christmas tradition and when the weather isn't great outside, who wouldn't enjoy the smell of baking gingerbread, the sticky fun of the icing and the anticipation of eating your wonderful concoction!

Sarah, Jack and Sam's spectacular gingerbread house. I love the little bottles outside!
You will need:
2 quantities of our gingerbread recipe
Print out of our templates (preferably onto card)
Royal icing
Small sweets, chocolate chips, glace cherries – whatever you have in your cupboard


Gingerbread house template - long wall


Gingerbread house template - tall wall

Gingerbread house template - roof
Instructions:
Print out our templates and cut out. Use care when cutting out the window.
Roll out your gingerbread on a floured surface until it is about 1/4 inch (5mm) thick. Lay the templates on the gingerbread and cut two of each piece.
Bake in an oven preheated to 180˚C or Gas Mark 5 for 10-15 minutes, until they have turned golden brown. They should still feel slightly soft. Leave out to cool and dry out a bit.
Make up some royal icing according to the packet instructions.
Spread some icing down the edges of each of the house sides and press together. Make sure the short sides sit inside the long sides so your shape looks like this:
Leave the house and icing to harden for 30 minutes - making sure to cover up your bowl of icing though so it doesn't dry out!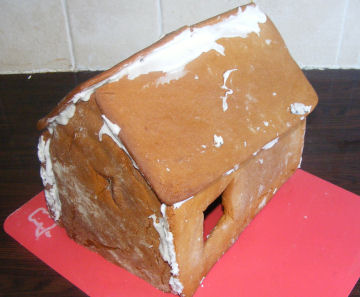 Gingerbread house in progress - ready to decorate!
Spread icing around the edges of the roof pieces and 'glue' in place.
Using the royal icing as 'glue' stick on your sweets and decorations.