This woven snowflake makes a pretty Christmas tree decoration and is fun for kids of all ages to make. We've got some suggestions for variations below, too...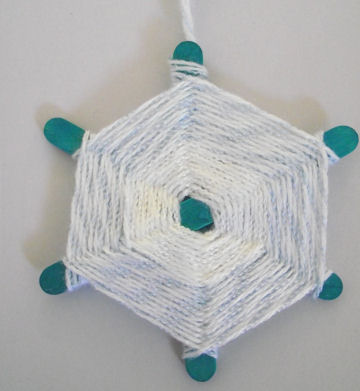 Our pretty woven snowflake!
You will need:
3 craft (lolly) sticks
Wool (yarn)
Glue
Instructions:
Glue the craft sticks together in the middle so they form a star shape and leave to dry.
Tie one end of the yarn around one point on the craft stick star.
Take the yarn over the next point. Take behind and then around the front of that and the next point, behind that point and then over that one and the one next to that. Keep the yarn tight.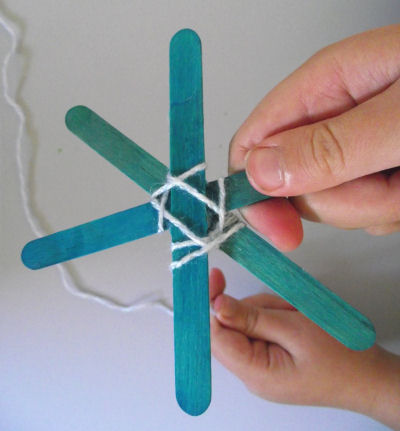 Repeat until all the sticks are nearly covered.
This is a view of the back of the woven snowflake decoration.
To finish, glue the yarn to a stick. Tie a loop of yarn and glue the knot to the stick, trimming off any extra yarn. Display proudly!
More Ideas:
Older children could use jewellery wires or even pipe cleaners for the "spokes" of the snowflake
You can vary the effect by using sparkling cords, fluffy wool (yarn) or even very fine silver or white ribbon
How about "weaving" the snowflake more loosely, so that you can see through the wool?
Dip the ends of the craft sticks in a little glue, then sprinkle on some silver or white glitter
Put little dabs of glitter glue all over your finished snowflake