Have a go at this fantastic mask when you are enjoying the book of Fantastic Mr Fox or celebrating Roald Dahl Day, for a British wildlife theme, or anytime.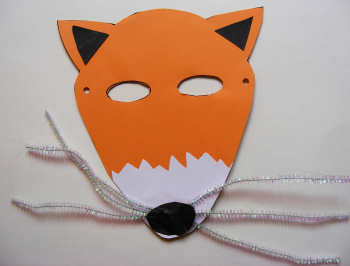 You will need:
Orange card
Our fox mask template
Scraps of white and black paper.
Glue
3 white or black pipe cleaners (chenille stems)
Elastic
Instructions:
Either print the fox mask template directly on to orange card and cut out, or print on to white card, cut out and trace around onto our orange card. Take care when cutting out the eyes.
Draw around the end of the nose on to white paper. Cut out, making the top edge jagged. Glue the white paper on to the orange card.
From black paper cut out two small triangles for the ears and a nose. Glue on the ears.
Take the three pipe cleaners and twist them together in the centre. Glue them to the fox's nose. Glue the black nose on top. To make everything stick you will have to put a weight on top while the glue dries.
When all the glue is dry, make a hole in either side of the mask and thread though the elastic, tying securely.