The little robin has become a symbol of Christmas with his redbreast makes him a popular site in the garden. How about making an indoor version which you can eat an enjoy, with these very cute robin biscuits!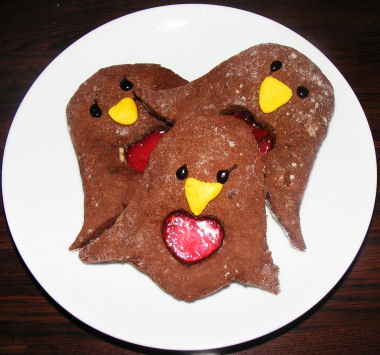 The robin biscuits look almost too cute to eat!
Ingredients:
makes 16
175g soft unsalted butter
175g caster sugar
3 eggs
400g plain flour
75g cocoa powder
1 teaspoon baking powder
1 teaspoon salt
16 red boiled sweets

Robin biscuits recipe printable
Instructions:
Cream together the butter and sugar. Beat in the eggs.
Sift the flour, cocoa powder, salt and baking powder in to the bowl and mix in.
Wrap the dough in clingfilm and pop into the fridge for at least 1 hour.
Roll out the dough to about 1/2 cm thick. Cut out 16 robin bodies. If you do not have a suitable cutter, draw a template on card and cut out your robins with a knife.
With a small circle cutter, cut out a circle from each robin's tummy.
Place on a lined or greased baking tray, in an oven preheated to 180C/ gas mark 4 for 8 minutes.
Take out of the oven, pop a red sweet in the centre and return to the oven for another 2-4 minutes, until the sweet has melted and the biscuit is lightly browned.
Allow to cool for a minute or two on the tray, then move to a rack.
When completely cook, add beady black eyes and a triangular yellow beak with tubes of "writing icing". Alternatively use a tiny triangle of yellow fondant icing for the beak, or even a small yellow sweet.

Robin biscuits - cute, and delicious too!