Why not make Dad a rugby keyring with a photo of the maker on the back? Or get rugby fans to make their own to use as a backpack tag or to attach to a pencil case to support their favourite team - or their country in the Rugby World Cup...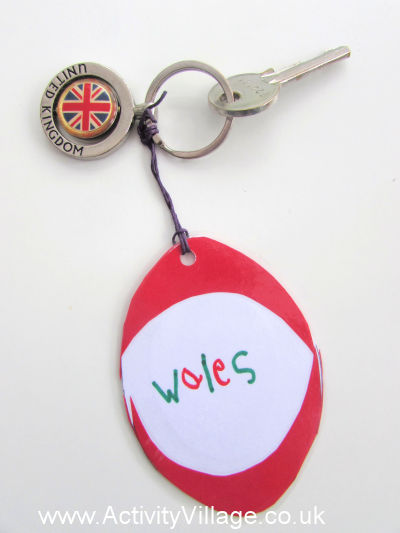 You will need:
White card or paper
Coloured card or paper
Photo
Glue
Coloured pens
Laminator and pouch
Cord
Keyring
Instructions:
Cut a rugby ball shape from coloured card.
Use the shape you have just cut out to draw two more rugby balls onto the white card. Cut out, trimming a piece off either end so that they will leave some of the coloured card showing. Our photos make this clear.
Glue one of the trimmed white pieces to either side of the coloured card.
Glue a photo to one side of the ball.
Decorate the other side, perhaps with your team name.
Laminate the ball.
Punch a hole in the top of the ball. Tie some cord through the hole, and then tie the cord to the keyring.
Explore Activity Village