Rugby World Cup
Are you ready for the Rugby World Cup 2015? In England - this year's hosts - we are getting very excited! The competition starts on 18th September and runs through to 31st October, 20 countries take part and there will be exciting matches taking place all over England. It's a great time to be patriotic, wave your country's flag, and enjoy some fantastic sport!
The Rugby World Cup has been played every four years since 1987. Do you know which three countries have won the Rugby World Cup twice? Scroll down to the bottom of the page to find out!
Time Saving Bundle
We've put together over 300 pdf files containing Rugby World Cup 2015 printable resources, general rugby printable resources, and flag printables for the 20 countries taking part. Why not save yourself some time and effort by jumping straight to our shop and downloading our time-saving bundle? That's 300 pages you won't have to visit!

Rugby World Cup 2015 Time Saving Bundle
Rugby World Cup 2015 Contenders
20 countries take part in the Rugby World Cup. In the first stage, the 20 teams are divided into 4 pools, each with 5 teams. 10 games are played in each pool and teams are awarded 4 points for a win, 2 points for a draw and 0 for losing. A bonus point is awarded if a team scores four or more tries in a game, or if a team loses by 7 points or less. At the end of the 10 matches, the top two teams in each pool move onto the quarter finals.
Click the links below to find out a few fun facts about each country and find a full set of flag printables and colouring page, as well as map, location and fact-finding worksheets.
Pool A:
Pool B:
Pool C:
Pool D:
Rugby World Cup Printables
The Web Ellis Cup

What does the winning team take home? The Web Ellis Cup! (photo courtesy of flickr.com/jonlucas/) The cup is named after William Web Ellis, the 16 year old schoolboy from England's Rugby School, who supposedly invented rugby during a football training session in 1823, when he picked up the ball and ran with it!
It's not quite as grand as the Web Ellis Cup, but we have our own gold sports trophy which you can embellish.
Rugby Colouring Pages

We've got a huge collection of rugby colouring page featuring men, boys and girls. For many you can add your own (or your favourite team's) colours.
Rugby Colouring Pages
Rugby Crafts


We've got some fun rugby crafts to enjoy during the Rugby World Cup - and of course they make great little gifts for rugby fans, too!
Rugby Crafts Lots NEW!
Rugby Printables


All sorts of rugby printables to enjoy, suitable for the classroom or home. Try an acrostic poem, use our rugby writing paper, have a go at a jigsaw or design your own team kit! And more...
Rugby Printables Lots NEW!
Rugby Worksheets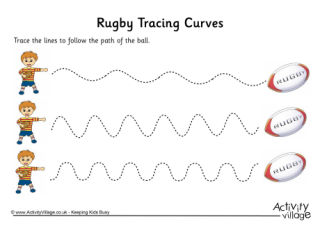 Our collection of rugby themed worksheets - everything from simple tracing pages for younger children up to challenging maths worksheets.
Rugby Worksheets Lots NEW!
Rugby Puzzles

Kids can try their hand at our rugby puzzles - perfect for accompanying a Rugby World Cup match or two!
Rugby Puzzles Lots NEW!
This Year's Hosts

Use the excuse of the Rugby World Cup to learn a little about this year's host country - England!
England Lots NEW!
Patriotic Flag Printables

20 countries take part in the Rugby World Cup, and we have flag printables (including 3 sizes of flags to use in your projects, flag colouring pages, flag bookmarks and flag notebooking pages and mini booklets) for all of them - everything you could need to support your team!
Flag Printables
More Rugby World Cup Fun
Which three countries have won the Rugby World Cup twice?
Australia, in 1991 and 1999, South Africa, in 1995 and 2007, and New Zealand, in 1987 and 2011.
Explore Activity Village