Thanksgiving
Celebrate Thanksgiving and enjoy Activity Village's collection of fun Thanksgiving activities for kids. We have a huge collection of Thanksgiving colouring, quick and easy Thanksgiving crafts for children, Thanksgiving puzzles and mazes, Thanksgiving jokes that the kids will enjoy and all sorts of Thanksgiving printables to explore. You will find Thanksgiving fun for all the family below.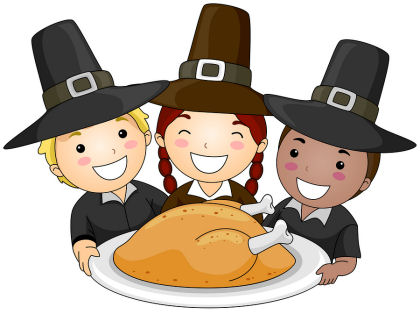 When is Thanksgiving 2023?
Thanksgiving is celebrated on the fourth Thursday of November, which will be 23rd November in 2023.
"Our rural ancestors, with little blest,
Patient of labour when the end was rest,
Indulged the day that housed their annual grain,
With feasts, and off'rings, and a thankful strain."
Alexander Pope
A Note About Our Thanksgiving Activities for Kids
Although we are based in the UK, our Thanksgiving activities have been made with our American visitors in mind - so you will find American spellings available for all our printables ("color" instead of "colour", for example) even if the link and image shows the English spelling.
Thanksgiving Colouring
Whether you are looking for a funny Thanksgiving turkey colouring page, a detailed Thanksgiving card to colour and send to family or a simple "colour by number" activity for younger children, we've got something for you here!
Thanksgiving Learning
It is always fun to "theme" your learning activities for the holidays, whether you are teaching children at school or at home. We've got some fun Thanksgiving learning activities and worksheets to explore here.
Thanksgiving Printables
Click through to explore our huge collection of Thanksgiving printables - everything from Thanksgiving themed lacing cards, playdough mats and jigsaws for younger kids, to party printables for your Thanksgiving table, to Thanksgiving display posters, letters and banners for your classroom. Children can even learn how to draw Thanksgiving pictures with our step by step tutorials! There is so much printable fun here.
Thanksgiving Crafts for Kids
We have a great collection of quick and easy Thanksgiving craft ideas to enjoy with the kids! Enjoy them with your kids at home. Many also work well for groups of children in school, group or church settings.
Don't Forget the Thanksgiving Turkey!
Of course a turkey is an essential part of Thanksgiving, and we have a whole turkey theme" here at Activity Village for you to explore:
More for the Season
We call it autumn - Americans call it fall. Whatever you call it, its the season of Thanksgiving. Almost all our "autumn" activities come with a "fall" version too, so you can choose the term that you use.
More to Explore
Apart from Thanksgiving (and Christmas), of course the other big American holiday is Fourth of July, so we've included a link to our Fourth of July resources here, as well as a few other sections at Activity Village that you might enjoy exploring.
How Do You Explain Thanksgiving to a Child?
It can be tricky explaining Thanksgiving to children, who sometimes don't understand there is anything more behind the holiday than lots of nice food! Explain to them that Thanksgiving is a wonderful time for families to come together and enjoy good company and good cheer, and it's a time to show gratitude for everything we have.
Thanksgiving is about the fall harvest that first brought together the Native Americans and the pilgrims. You could get your children involved in preparing the food as an opportunity to learn about where food comes from and how lucky we are to have it, and maybe talk about how important it is to help others in need – just like the Native Americans helped the first pilgrims.
You may want to explain that although the first Thanksgiving was a positive interaction between founding people and colonisers, Thanksgiving also symbolises a history of mourning for many Native Americans. After helping the European settlers, many events happened later that resulted in Native Americans losing their land and lives.
However you choose to commemorate or celebrate Thanksgiving, you can explain to the children that we always have more to gain in fellowship than we do in conflict.
5 Interesting Thanksgiving Facts for Kids
The current US president pardons a turkey every year. The tradition first began when Abraham Lincoln was president and his son wanted to let the turkey live. President George HW Bush was the first to formalise the tradition in 1989, and since then the pardoned birds have even visited Disneyland to take part in the annual Thanksgiving parades!
There is an official Thanksgiving postage stamp.
Jingle Bells was originally composed as a Thanksgiving Day song in 1857 called "One Horse Open Sleigh". It was so popular around Christmas that the title was changed to "Jingle Bells" two years later.
The average person eats 4,500 calories at their Thanksgiving dinner – that's the same as 16 slices of pizza, 61 chicken wings or a whopping 28 donuts!
The famous Macy's Thanksgiving Day Parade is watched by millions of Americans every year, but did you know that the first ever parade in 1924 featured many animals borrowed from New York's Central Park Zoo, including camels, elephants, bears and monkeys?
The Story of the First Thanksgiving
The story of the first Thanksgiving begins back in Plymouth, England in September 1620. 102 passengers - Pilgrims - set off sailing across the ocean on a ship called the Mayflower to start a new life. After a gruelling journey that took 66 days they reached their new home in New England.
When the Pilgrims landed in Cape Cod in November they weren't ready for the harsh, wintry conditions and, tragically, half the original passengers had died by spring. The remaining passengers settled into a village they called Plymouth. Various indigenous tribes of the Wampanoag people already lived there.
The Native Americans taught the Pilgrims how to cultivate the land and shared essential survival knowledge with them. Without their kindness the Pilgrims would not have survived another winter. With their help the Pilgrims welcomed a successful harvest which they celebrated with the first Thanksgiving.
In November 1621, Governor William Bradford organised a three-day celebration and invited the indigenous people who had helped them, including Massasoit, the Wampanoag chief. The same concepts of friendship and gratitude are still celebrated on Thanksgiving today.
---
Canadian Thanksgiving
Our Canadian visitors might prefer to explore our Canadian Thanksgiving collection.

Canadian Thanksgiving
---
"For each new morning with its light,
For rest and shelter of the night,
For health and food, for love and friends,
For everything Thy goodness sends."
Ralph Waldo Emerson
"Thanksgiving Day is a jewel, to set in the hearts of honest men; but be careful that you do not take the day, and leave out the gratitude. "
E.P. Powell