Commonwealth Games
Are you ready for yet another great sporting event? Our Commonwealth Games Activities for kids are a great way to get children excited about sports, learn about some other countries and cultures, practise record keeping and have some fun!
We've got Commonwealth Games colouring pages, Commonwealth Games printables, Commonwealth Games puzzles and Commonwealth Games (fun) worksheets - all designed to keep the kids engaged and enjoying themselves while learning and keeping busy.
Explore our Commonwealth Games activities for kids in three ways:
Commonwealth Games Birmingham 2022
The next Commonwealth Games will be held in Birmingham, England, between 28th July and 8th August 2022. The Commonwealth Games are all about coming together, making new friends, enjoying sport and learning from each other - in fact they are often known as "the Friendly Games".
XXII - It will be the 22nd Commonwealth Games, in 2022!
11 - exciting days of sports and events
3 - third time England has hosted the Commonwealth Games
6 - continents taking part
53 - countries in the Commonwealth
72 - Commonwealth nations and connected territories
5,000 - more than athletes expected to compete
2.4 billion - people in the Commonwealth!
800 - we will have well over 800 printable pages of Commonwealth Games activities to enjoy with the kids at Activity Village, including colouring pages, learn to draw activities, fun worksheets, puzzles and flag printables for all the countries taking part!
The Games will begin exactly 10 years after the London Olympics 2012 began! The slogan for the Birmingham games will be "Heart of the UK, Soul of the Commonwealth".
---
Commonwealth Games Activities for Kids!
Explore our Commonwealth Games colouring pages, printables, puzzles and worksheets - all designed to be enjoyed during the Commonwealth Games in 2022! Find activities by type below, or scroll down further to explore by sport or by country.
---
Commonwealth Games Sports
What sports will be enjoying for Birmingham 2022? There will be plenty of excitement to be had and we've got lots of activities for you to explore by clicking through to each sport's pages below.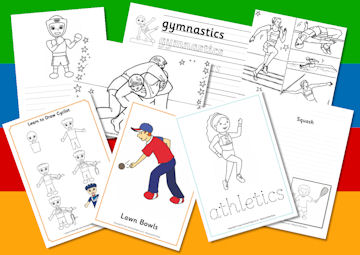 Just some of our Commonwealth Games sports activities
Commonwealth Games Competitors
You can find out a little about each of the nations and territories taking part by clicking the links below. And for each country coming to the Games, we also have a full set of flag printables - including flag bookmarks (some to colour), flag colouring page, flag booklet, notebooking page and jigsaw, as well as 3 or 4 different sizes of flag to print out and use in your projects. For some of the countries we also have extra activities such as crafts, colouring pages of landmarks, and map worksheets.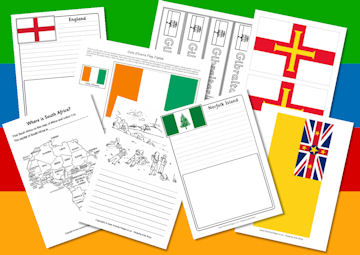 Nations and territories of the Commonwealth Games - a small sample of the activiites you can find here at Activity Village!
NB: As of 14th June, 65 of the 72 Commonwealth Games Associations have confirmed that they will be sending athletes to the Commonwealth Games in Birmingham.
---
England - the Hosts!
Why not explore our England topic while you enjoy the Commonwealth Games!

England